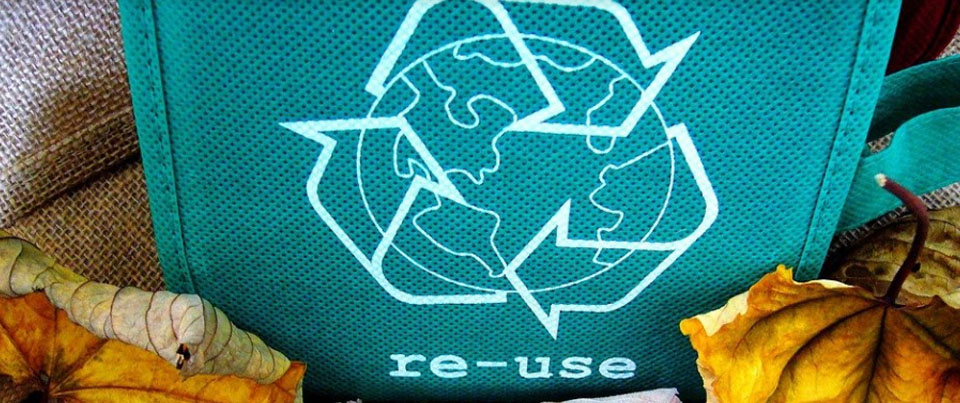 ENVIRONMENT
ENVIRONMENT
Battery container

We recycle with energy!
We have a container so that your batteries go directly to recycling and do not contaminate anything. Find them in the parking lot.
Bulbs and Fluorescent Containers
In full light!
Recycling these waste items contributes to the preservation of the natural environment. Bring them to our containers and you'll be doing a lot for our planet.
Clean point

Well collected!
We have the right place for the selective collection of polluting materials. It is the first step to do the recycling job well.
Clothing Containers
Give your clothes another life and collaborate with Caritas!
At Zenia Boulevard, we want to contribute to reducing the environmental impact of fashion. That's why we have containers where you can place your clothes to give them a second life and help Caritas improve the situation for those in need."
Container for household appliances

No waste!
The broken appliances from our restaurants and stores have their place prepared to take better care of the environment.
Ecological litter garbage cans

The future is in our hands!
We are committed to the environment. For this reason, we put garbage cans suitable for recycling throughout the Mall. Help us by putting each waste in its place.
Ecoparks

With great care!
Our ecoparks are special recycling areas and we carry out a careful selective collection to achieve a more appropriate waste management. We want to take the utmost care of the nature that surrounds us.

Electric vehicle charging point
Free service.

Power 25 amps.
Oil container

Liquid gold for the environment!
So that the oil from our restaurants does not pollute, we have prepared a special container.
Recycles Project

Earn Points!
Earn points to receive sustainable prizes or donate them to social projects by bringing your cans and plastic bottles to the digital recycling machine. The future wins and so do you.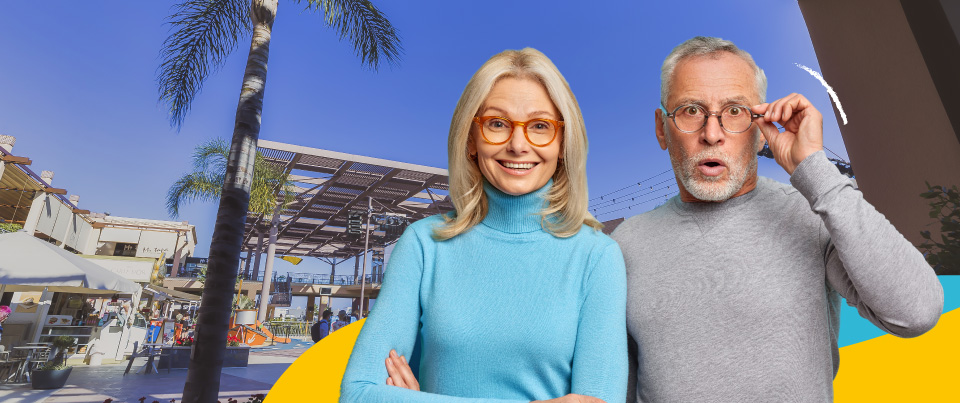 GENERAL
GENERAL
Elevators

Reach high without effort!
For your convenience, there are several elevators in different parts of the mall. Use them if you need them.
Escalator with ramp

Up!
You can choose to go up on foot or by our escalators located in London Square and Plaza de la Lonja. The important thing is to enjoy the day at Zenia Boulevard.
Food Xperience

Eat your way through the day!
We have the perfect area for you to enjoy eating or drinking in restaurants of all kinds and for all tastes. Come and have a "breack" in your shopping day.
Free diapers

Clean and happy baby!
If you run out of diapers and have an emergency, go to the Customer Service Point and they will give you one totally free of charge.
Free Wifi

We connect with you!
Throughout the Mall you have a free wifi network so you can surf our streets.
Giant screen

Have a great time!
Soccer games, movies and much more fun can be seen on our LED screen located on the stage of the Plaza Mayor.
Interactive fountain

Get wet!
What fun is our water fountain with water jets! Kids love to play in it and cool off. Of course, always wear flip-flops.
Lost and found

Don't miss it!
If you have lost an item or found one that is not yours, go to the Customer Service Point.
Loyalty Club

This club is a great tip!
With our club you get points for coming and it offers you special discounts in stores, promotions and gifts, become a member!
Mailbox

You're in charge here!
To send your funniest letters to your friends and family. It's nice to receive your news by mail, don't you think?
Microwave

Warm food!
In our Breastfeeding and Food Xperience Zones, you will find Microwaves so you can heat up your baby's food. What a great day he/she will have at Zenia Boulevard!
Solidarity piont

Good causes!
We give space to groups and non-profit organizations, NGOs, associations and charitable causes so they can make themselves known and tell you about their wonderful projects.)
Suggestion sheet

We listen to you!
If you have a suggestion, we will be happy to hear from you, with ideas like yours we continue to improve. Ask for your sheet at the Information Point.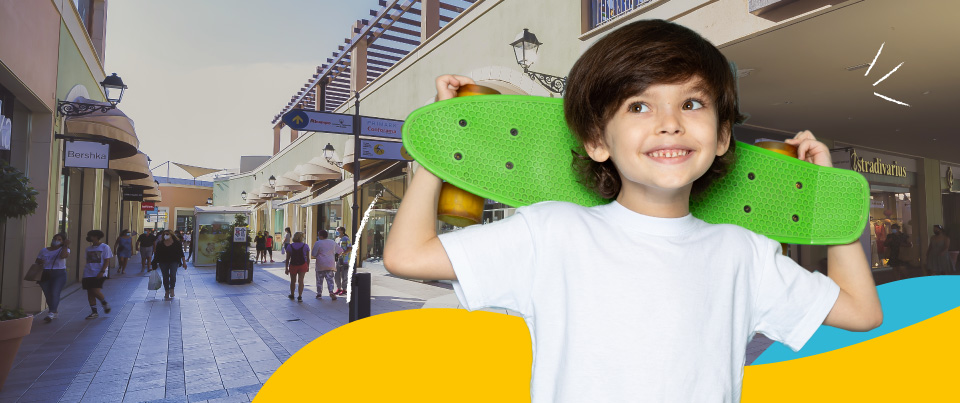 KIDS
KIDS
Bibs

How he eats!
Don't you just love watching your baby eat? And if it stains, it doesn't matter. Ask for your Zenia Boulevard bib at the Information Point and choose between blue or pink. *It's free for being or becoming a member of Club Fidelidad.
Breastfeeding rooms

Full tummy, happy baby!
In all the toilet areas of Zenia Boulevard we have set up breastfeeding rooms so that you can change or feed your baby and feel at home.
Children's identification bracelet

Thumbelina, Where are you?
We offer you free children's bracelets to fill in with your data. This way we can locate you if your child gets lost while playing in our center.
High chairs

Sit down to eat!
Our Food Xperience area has high chairs at your disposal so that your child can eat next to you as he/she gets older. Ask for it in the restaurants.
Kids Club

The most fun club!
With Club Zenia Kids you can enjoy free workshops and activities. You'll also get birthday presents, discounts in shop, and much more!
Loan of child seats

A day on wheels!
So that your child doesn't get tired while you shop and stroll around peacefully, at the Information Point we can lend you pushchairs.
Playground

Jump, climb, laugh, play!
Our playgrounds are fun for them and rest for you. Find them in the Plaza Mayor.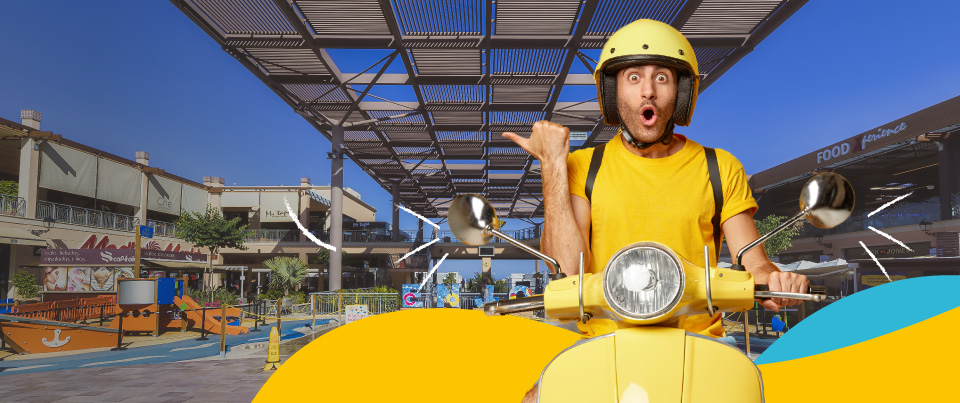 MOBILITY
MOBILITY
Bike lane

Go green!
We have bike lanes so you can get to Zenia Boulevard in the most ecological way. We love to see you arrive by bike.
Bike Parking

Pedal for the environment!
At the entrances to the Center you will find special spaces to leave your bike. We like you to set an example by coming by bike and we make it easy for you.

Bus stop

Let yourself go!
If you want to come by bus, find out the schedule at our Information Point. You'll see how easy it is to get a ride.
Car battery charger 


Start it up!
If your car has run out of battery, don't worry: call our Customer Service Center and we will help you start it.
Disabled parking

Your parking space is closer!
In front of the entrances to the center, you will find special parking spaces for the disabled. In order to ensure the proper use of these spaces, please place the sign on the front of the vehicle in a visible manner.
Electronic devices charging point

We give you our energy!
Are you running out of battery? Don't worry because we provide you with plugs to charge it and also with different USB connections for your cell phone, tablet or laptop.
Family parking

Family parking space!
We have parking spaces of special width, for your comfort and yours, if you come in a family car. Welcome from the smallest to the biggest of the family.
Free Parking

Here's your spot!
We have outdoor and subway parking, free of charge, so you can park your car and access the Center comfortably. Spacious and well-lit spaces to make it easy for you.
Garage

Guided parking

This way is good!
Our parking guidance system will help you locate free spaces, reducing search time, traffic, pollution and will make your entry into Zenia Boulevard easier.
Motorcycle parking

Stop the stress!
We have special places for you to leave your motorcycle in all the accesses to the Mall.
Parking for scooters

Come as you like!
Are you coming by scooter? No problem, here you have special spaces at each entrance, designed to leave your scooter waiting for you while you enjoy Zenia Boulevard.
Petition of taxis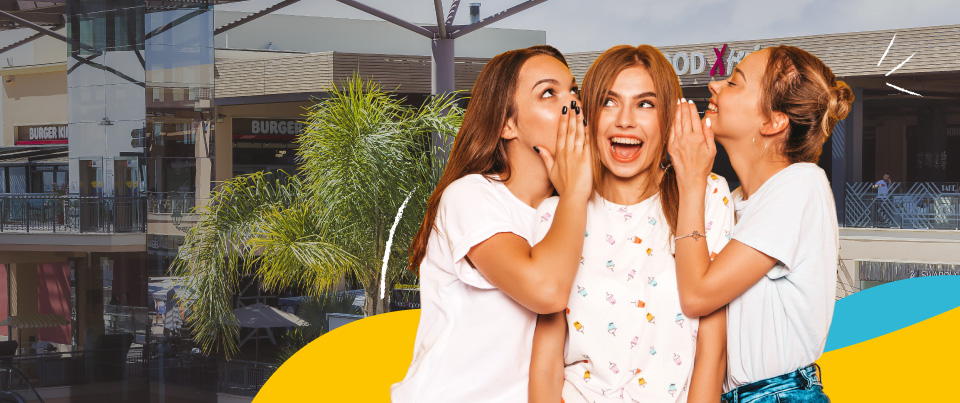 OTHERS
OTHERS
Bitcoin

Money, money, money!

You have a cashier for buying and selling Bitcoins. You choose the currency, we make it easy for you.
Calisthenics Park

Train yourself!
We have everything you need to exercise your muscles for free. Come to our park and enjoy our facilities
Gift Wrapping Paper

The perfect gift!
At the Information Point we wrap your gifts for free so you can deliver them in the most perfect way.
Healthy Park

Get in shape!
We like you to take care of yourself and stay in shape. We like you to come to our free healthy park because it is designed for you.
Picnic Zone

Happiness in a pie dish!
How nice it can be for a shopping day making a picnic. Well, we provide the tables and the space to make you feel happy.
Proposal Service

Say I do!
Are you ready to propose to your sweetheart and want to surprise them? We can help you to do it in Zenia Boulevard with something special: A ballet, a falshmob, a song or something you can think of. Leave us your details at the Information Point and we will contact you.
Umbrella loan

Let it rain, let it rain!
It's starting to rain and you're caught unawares? At the Customer Service Point we can lend you an umbrella. Find out about the conditions.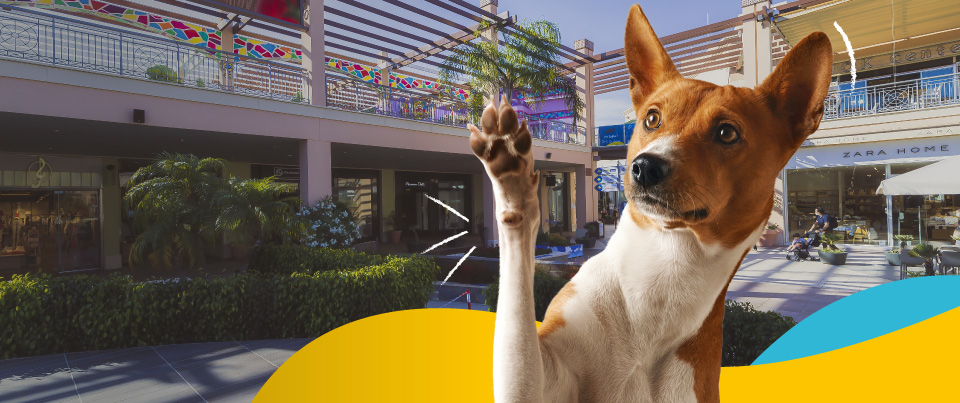 PETS
PETS
Bones bag holder

Not without my bag!
Have you run out of bags for your dog? Don't worry, there are several bag dispensers around the Mall and you can also ask for your special bag container at the Information Point *For being or becoming a member of the Loyalty Club.
Carts for dogs
Rest your doggy!
Your dog is tired? No problem. At the Information Point we have a stroller for him. So that both of you enjoy your stay in Zenia Boulevard.
Drinking fountains for pets
Let your doggie drink to his heart's content!
So that your dog can drink, ask for a drinking fountain at the information point (Get it free for being or becoming a member of the Loyalty Club).
Pipi Can
Wow how clean!
Throughout the Mall there are Pipican houses with little bags to collect and deposit your dog's "gifts" inside.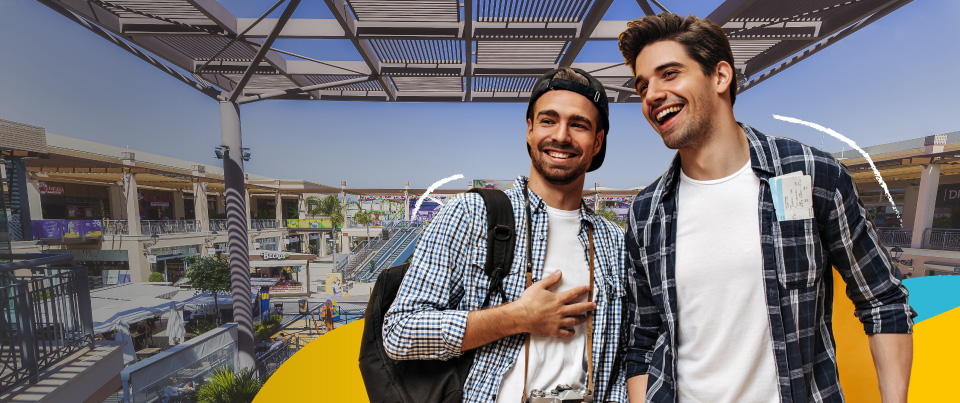 PRACTICES
PRACTICES
Amazon locker

You are welcome!
We love to receive you at Zenia Boulevard and your packages too. Place your order on Amazon and pick it up here easily.
Automatic Teller Machines

The most cash!
You will be able to have cash at any time. We have ATMs distributed throughout the mall.
Car repair

On wheels!
Don't worry about your car. Norauto offers repair of all types of vehicles. Consult specifications at the establishment.
Click and Car (Alcampo)

What's in!
Want to do your shopping without getting out of the car? Simply place your order on the Alcampo website and they will take it to the collection point. It's that convenient.
Daily press sales

For your information!
Both at Santos Ochoa and Alcampo, you can buy your favorite newspapers and magazines. So you can always stay informed.
IKEA Pick Up Point

Get it together!
We have a pick up point for you to pick up your Ikea orders easily and quickly. You can park in the parking lot in front of the Casino to pick up your orders in the easiest way.
In-Post Locker

Welcome, Parcels!
We welcome packages that arrive from In-Post Locker and keep them safe for you to collect. You can also drop off your packages here for collection and use it for returns as well.
Key copying

Open to you!
We want you to be able to open every door, that's why at Mister Minit we make copies of your keys on the spot. You can find it in the gallery of Alcampo.
Lottery

If you dream!
In the gallery of Alcampo you can find a Lottery Administration where you can manage your prizes. In case you have a dream. *Only for people over 18 years old.
ONCE

Good luck!
Your ONCE coupons are waiting for you in the Alcampo gallery, we hope you win! *Only for people over 18 years old.
Pharmacy

Take care of yourself!
At the beginning of the Calle de los Arcos you will find our Pharmacy. How convenient it is to have a great pharmacy with everything you need to take care of yourself.

Photo booth

Smile!
Zenia Boulevard has 2 photo booths in the subway parking: at the London Square entrance and at the entrance to the Plaza de la Lonja so you can have the serious photos you need or the funny ones you want.
Shoe repair

Step on it!
We want you to get where you want to go, to show what you are worth and of course to walk through our streets. And for all that you need your shoes in perfect condition. So in Zenia Boulevard, the gallery of Alcampo, we have the perfect shoe repair service for you.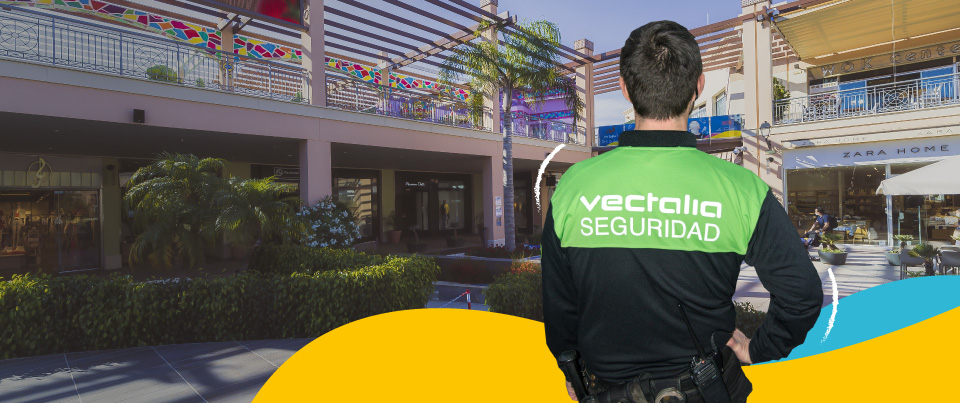 SECURITY
SECURITY
24h security
You are sure to enjoy!
We have a permanent security point for your peace of mind, 24 hours a day. Shop, stroll, have a drink, enjoy with peace of mind. We are attentive.
Cardio Protection Column

From the heart!
The Mall is a cardio protected space because all over the Shopping Center we have installed Cardio Protection Columns available for use in case of emergency, we want to take care of you!
Electronic locking lockers

I'll hold it for you!
Enjoy shopping without having to carry your bags. Keep them totally safe in our electronic lockers. You can find them in the hall of the toilets in Plaza de la Lonja.
First aid

Be careful!
Our security staff is ready to assist you in case you need first aid. Take a walk with peace of mind, we are here to help you.
Free children's identification bracelets

Hydro Alcoholic Gel

Always at hand!
Do you want to protect your hands? We have hydroalcoholic gel dispensers distributed throughout the different entrances to the mall, as well as at different points inside the mall.
Parking assistance

Here's your car!
Don't know where your car is in the car park? We can help you. We have a team of Security Assistants who will help you find it.
Real-time capacity control

No more, no less!
The most important thing is that you can be at ease in Zenia Boulevard, so we have a real-time capacity control system to ensure the safety of our visitors.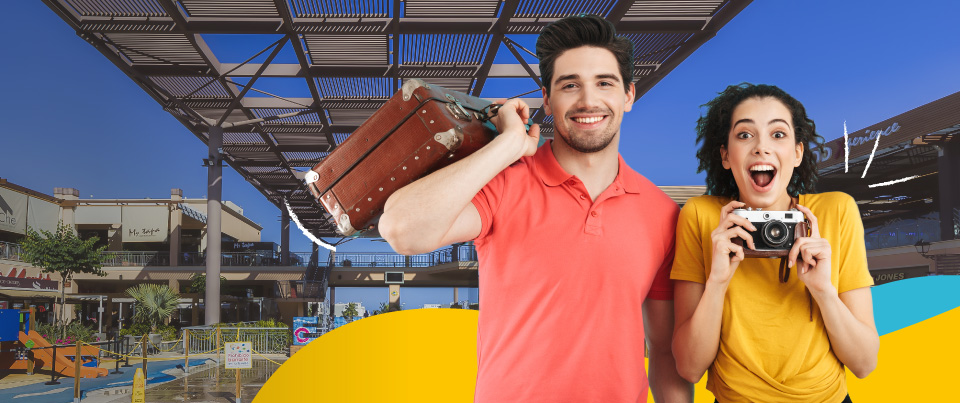 TOURISM
TOURISM
Customer Service Point

Yours sincerely!
Do you want information about our Center, stores, activities, events, buses to come and even tourist attractions to visit or need help? Stop by our Customer Service Point and we will be happy to assist you. Because you are the most important thing for Zenia Boulevard.
WhatsApp Service

We are here!
You can also communicate with us through a WhatsApp service. Because we want to make it easy for you.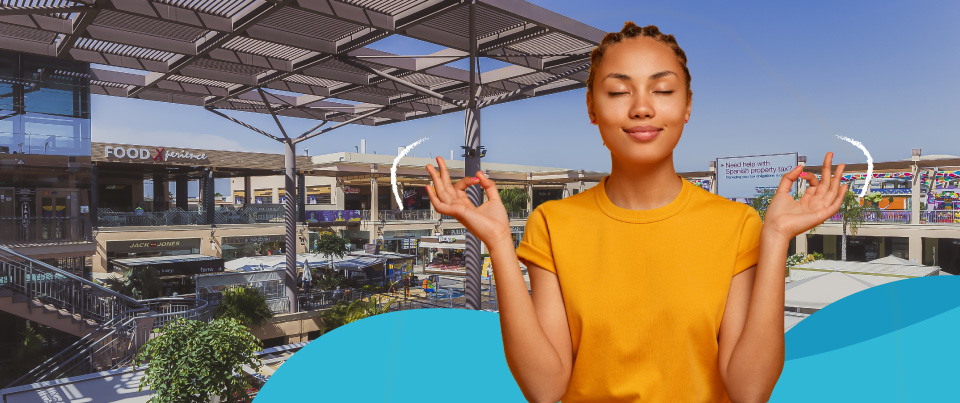 WELFARE
WELFARE
Band-Aid Kit

Don't be afraid!
Ask at our Information Point for your Band-Aid Kit if you have any mishap and have hurt yourself.
Cologne in toilets

How nice you smell!
We provide you with free cologne in the toilets of Zenia Boulevard, so you can go out with a fresh scent.
Relaxation areas

Relax and enjoy the day!
Throughout the shopping center you will find areas with sofas or benches so you can take a break and enjoy your shopping more.
Sewing Kit

All fixed!
If something comes undone, don't worry, at our Information Point we have a small Sewing Kit for you.